Short answer for why you should buy puzzle dog toys: a bored dog is more likely to get into trouble. Puzzle toys are entertaining and help keep them occupied.
Entertainmydog is reader-supported. When you buy through links on our site, we may earn an affiliate commission. We never endorse items we would not use ourselves.
Let's go a bit more in depth as to why you should consider puzzle toys for your dog. 10 years ago you likely had never heard of a puzzle for your dog. Heck, 5 years ago you may not have heard of puzzle dog toys. But, there's a good reason interactive puzzle toys are growing in popularity among dog owners.
Why Dog Puzzle Toys
If you're not entertaining your dog, they will look for their own entertainment. While this could be a chew toy or rolling around a ball, your dog may also find your furniture, toilet paper or worse. Utilizing tools like puzzles and interactive toys stimulate your dogs mind and keep them busy.
Dog's originally helped and worked with their human companions. From hunting like when Pointer dogs showed their masters prey to herding dogs like Collies corralling animals. Now though, most dogs hang out in our homes, sleep through much of the day and get their food with no work from a bowl. Because they are leading easier lives, dogs now have leftover energy and, unfortunately, can become bored. These two factors, boredom and excess energy, are common causes of behavior problems in dogs according to Fetch by Webmd.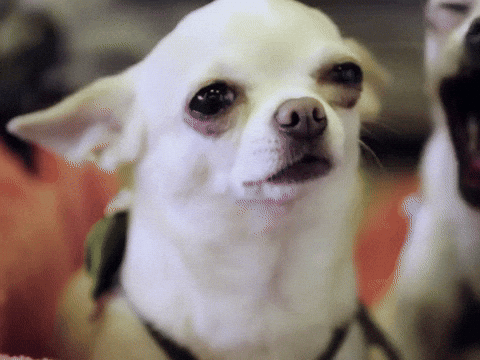 Typical enrichment such as walks, fetch and tug a war can be enough for some dogs but others may need additional entertainment to stay out of trouble. Most people think about their dog's physical needs but many forget about mental stimulation. Exercising your dog's brain is just as important as exercising your dogs body. Best of all, mental stimulation can completely exhaust your dog.
Types of Puzzle Toys
Treat Dispensers
One of the classic and most well known interactive dog toys is the KONG. As many of you know, we are passionate about KONGs here. There's a reason these toys have been around since 1976, they are simple but highly durable and interactive. Joe Markham, the inventor of the KONG, was actually inspired by a Volkwagen Bus suspension part. The inventor was working on his bus when his dog, Fritz, got a hold of the part and fell in love.
According to Roxanne Hawn's article "Playthings, Then and Now" publish in AKC Family Dog, KONG paved the way for the industry of treat dispensing toys we know today. KONG continues to innovate and has tens if not hundreds of different types now in their toy line while other companies like Busy Buddy (now PetSafe) and Starmark invent other creative ways for your dog to dispense treat.
If you are looking for a budget friendly treat dispenser, grab an empty toilet paper roll or paper towel roll. Stick treats in the tube and seal the ends. Let your dog go to town getting the treats out. Because the cardboard will be destroyed, supervise your dog to ensure they don't eat the paper.
If you want it to last longer, you can put peanut butter or cream cheese in there as well. You can go here for other treat dispenser food ideas.
Plush Hide and Seek
Hide and Seek Toys are great because there is not a food element to them which is many people's complaints about most puzzle toys. The reward of this puzzle is the toy itself (and their secret squeakers) Hide and seek toys began with the Hide-a-Squirrel toy you've likely seen and have since expanded to many adorable different styles.
You can also now buy replacement hiding pieces is ones get too worn from play or get lost. The negative is hide and seek puzzles do not work for toy destroying dogs. Even if your dog is not typically a toy destroyer, you should still supervise at least the first time playing with this toy.
Puzzle Toys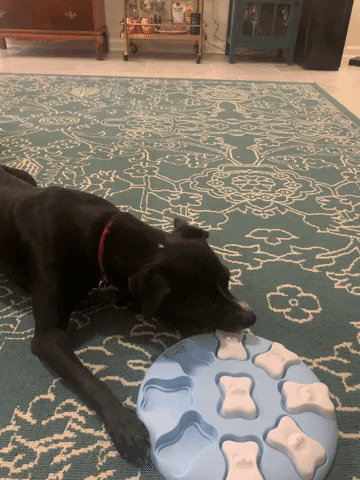 This is the most sophisticated of the puzzle toys and what is considered a true "puzzle toy," Nina Ottoson is who opened the door for puzzle toys in the 1990s and has since expanded her line to more intricate and fun puzzles. Her philosophy is "the dog has four legs and one head, and all five need activity in different ways – both physical and mental."
These toys are designed with mechanisms to hide and reveal food. They can be more challenging for dogs so there are different levels and styles. Once your dog has figured their puzzle out, you can use different tricks to make it more difficult like filling it with peanut butter or soft dog food and freezing the puzzle.
These games often come in plastic and wood. While wood is more eco friendly and durable, plastic is good for dogs who drool heavily or if you want to use wet dog food.
At the end of this, puzzle toys are all about mental stimulation for your dog. Remember: A tired dog is a happy dog.
Featured image by Lisa Fotios on Pexels.com